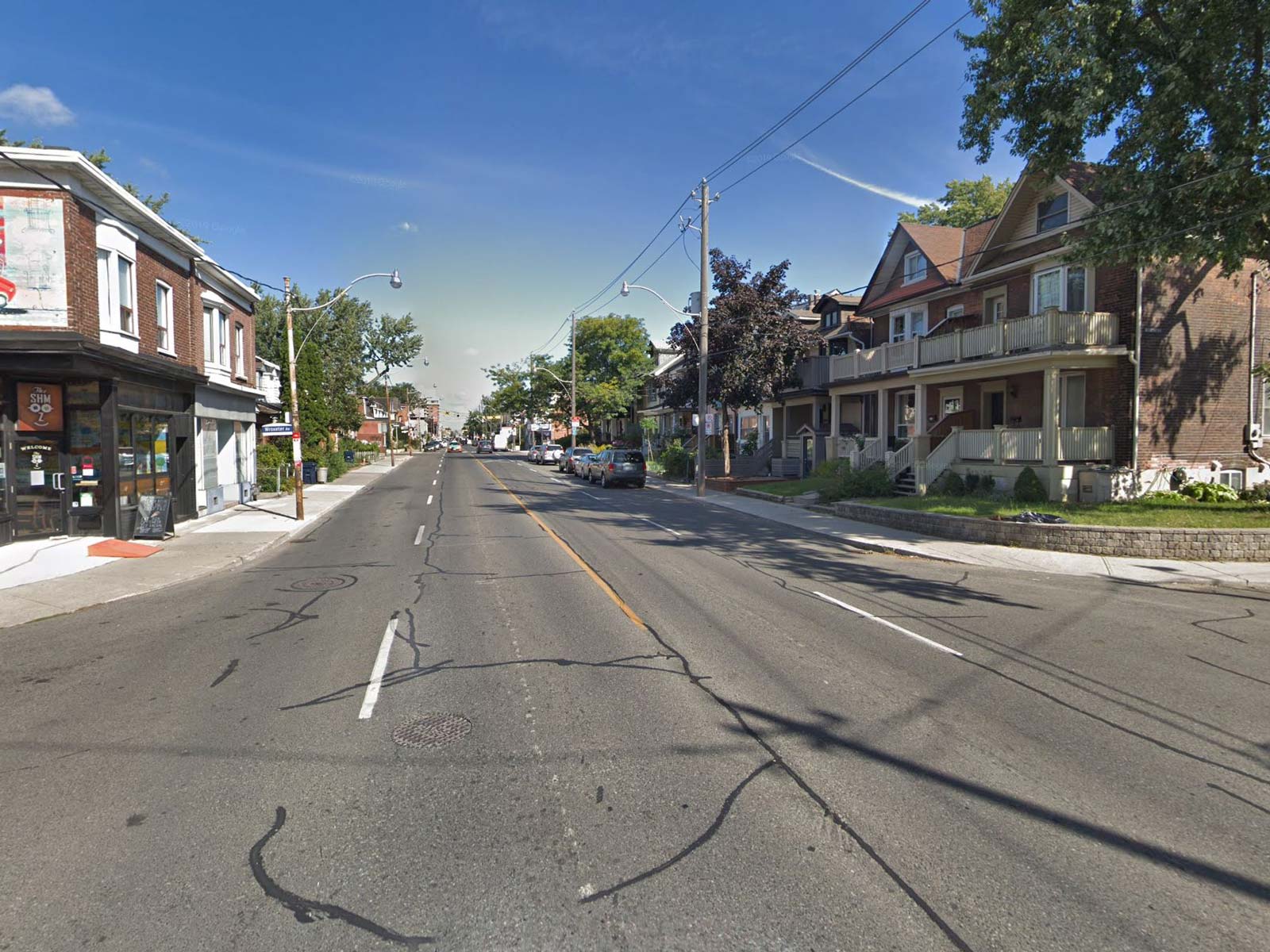 This Home Instead Senior Care office serves the areas of Toronto East, including the communities of:
Blake-Jones
About Blake Jones
Home Instead Senior Care provides in-home care for residents in Blake Jones.
Blake-Jones is a relatively small section of tree-lined streets in Toronto's east end, with residences built between1870 and mid-1930s. Bordered to the north by Danforth Ave, the area is split between east and west of Jones Avenue, and is primarily a residential area bordered by CN Rail tracks to the south and the Greenwood TTC yard to the east. Jones Avenue is the only major entry point to this neighbourhood with easy access off the Danforth Ave or Gerrard Street from the south.
Considered a neighbourhood within Riverdale​, Blake Jones is an area known locally as "The Pocket" because of its shape and village feel. This leafy enclave enjoys quiet streets with dead ends (a large TTC yard to the east cuts off through traffic). The Danforth strip to the north is in the middle of a facelift including a 25,000-square-foot Madina Masjid mosque, halal pizza joints and butcher shops, courtesy of the area's large Muslim community.
Blake Jones Area Ammenities for Seniors
Transit:
Pape, Donlands and Greenwood TTC stations cover the Blake Jones neighbourhood (only Pape is wheelchair accessible).
Buses head south from Pape Station (route 72) and Donlands (route 83).
Wheel-Trans provides door-to-door accessible transit service for persons with physical disabilities using accessible buses, contracted accessible and sedan taxis. Their strict eligibility guidelines can be discussed via appointment by calling 416-393-4111. Once eligibility is confirmed, reservations are at 416-393-4222.
​Toronto Ride provides door-to-door, assisted transportation to seniors 55+ and adults with disabilities who are not eligible for Wheel-Trans. This partnership of 14 not-for-profit agencies in Toronto can be reached at 416-481-5250.
​Seniors may be eligible for an Accessibility Parking Permit through the City of Toronto. Inquire at 416 235-2999.
Non-Medical transportation for Seniors to important appointments can also be arranged with accompaniment through your local Home Instead office.​
Parks, Community Centres:
Eastview Neighbourhood Community Centre (at 86 Blake St near Pape and Danforth Ave.) has seniors programs like Recreation, Trips, Home Visits, Shopping, Assistance in filling out forms, an Income Tax Clinic, Support Group, Gardening, Crafts, a Food Bank and an Escort Service for Chinese-speaking seniors 416 392-1750.
Woodgreen Community Care and Wellness for Seniors (at 444 Logan Ave near Gerrard) offers Supportive Housing, Meal Programs, Adult Day Programs, Transportation to medical appointments and other outings. Languages spoken are English, Cantonese, Mandarin, Filipino and Vietnamese. 416-572-3575.
Since 1980, the Ralph Thornton Centre (at 765 Queen Street East) has been offering programs ranging from Arts, Mediation, Education, Environment, Social Wellbeing and Cooking. The Centre's namesake, Ralph Thornton, was a taxi driver and Riverdale community activist. 416-392-6810.
​Frankland Community Centre & Pool is located at 816 Logan Ave . It is a smaller facility located in Frankland School. 416 392-0749
Jimmie Simpson Recreation Centre (at 870 Queen Street east, at Jimmie Simpson Park)is a large facility and a hub for free recreation programming with tennis and basketball courts, a swimming pool and adult courses like Cardio Dance, Yoga and Palates as well as Muscle Conditioning classes for older adults focusing on building bone mass, muscular strength and endurance with no cardio component. 416 392-0751.
Kempton Howard Park (on the southwest corner of Strathcona Avenue and Blake Street) is a smaller size park. It was originally named Eastview Park but was renamed in honour of Kempton Howard in 2007 after a tragic slaying of a local youth worker in December 2003. The park offers a variety of outdoor amenities for nearby residents to enjoying including an outdoor wading pool, playground and a baseball diamond.
​Withrow Park is a 8.5-hectare park with an ice rink, wading pool, tennis courts, ball diamonds, volleyball courts, sports fields, and a leash-free area. It was created in the 1910's and is among Toronto's large multi-purpose parks. The park goes from Logan Avenue to the west, Carlaw Avenue to the east, Bain Avenue on the south and McConnell Avenue on the north. It hosts a weekly farmer's market.
The Pocket Community Association is an active local community association which helps to organize local community projects and events and raise community awareness around local support and community services organizations.

Libraries:​
The Pape/Danforth (at 701 Pape Avenue), Jones (118 Jones Avenue) 416 393-7715 and the Gerrard/Ashdale (at 1432 Gerrard St E) 416 393-7717 branches are wheelchair accessible and offer books, films, internet access and community-based programs.
Hospitals, Clinics and Healthcare:
The nearest hospital is Toronto East General Hospital, located at 825 Coxwell Avenue (at Sammon Avenue) and has an emergency department. 416 461-8272.
Bridgepoint Active Health is located at 14 St. Mathews Road (off Broadview Avenue just north of Gerrard Street). The newly renovated hospital has been internationally recognized for dedication to getting patients and their families living with complex health conditions back to their lives. Bridgepoint is the single largest organization in Canada to focus exclusively on research, care and teaching for people with complex health conditions. Called "House of Refuge" in 1860, it was used for vagrants, the dissolute, the mentally challenged and in 1875, renamed "Riverdale Isolation Hospital" for its role during the smallpox epidemic. 416-416-8252.
​Coxwell Family Practice & Wal​k-In (at 343 Coxwell Ave) is nearby. 647 267-3366.
​Albany Medical Clinic is located at 807 Broadview Ave (at Pretoria) 416 461-9471 and offers a walk in clinic, physiotherapy and medical diagnostics.
Did you know?
The TTC's Greenwood Yard, (also known as the Greenwood Complex), dominates the south east area of this community and is currently the only active subway yard on the Bloor-Danforth line. Built in the 1960s, it services and stores subway cars and Scarborough RT cars via an existing underground tunnel between Donlands and Greenwood Stations.
Oakvale Greens Community Gardens is a one acre community garden made up of both communal and individual plots where residents can develop their green thumb.
Two small treasures reflective of Toronto's earliest Jewish settlements are Pape Avenue Cemetery and Jones Avenue Cemetery. Pape Avenue Cemetery, officially known as Holy Blossom Cemetery was established in 1849 as the first Jewish cemetery in the city located near Gerrard. The small cemetery has been closed to new burials since the 1930s. Jones Avenue Cemetery was established in 1856 and is run by the Toronto Hebrew Congregation.​