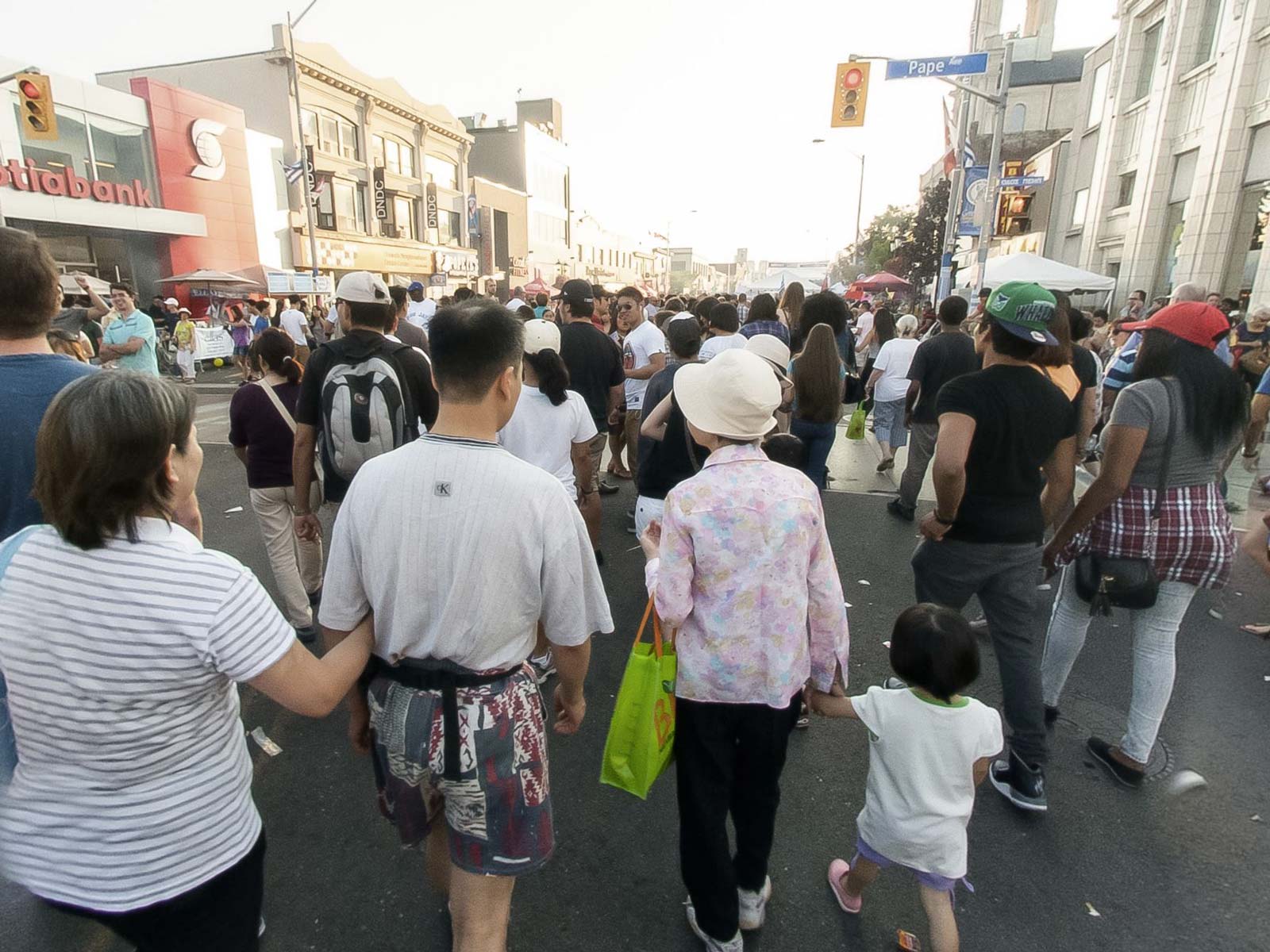 This Home Instead Senior Care office serves the areas of Toronto East, including the communities of:
The Danforth
About The Danforth
Home Instead Senior Care provides in-home care for residents on The Danforth.
As an west/east corridor The Danforth district in bounded by the DVP to west and Victoria Park Avenue to the east.
Thre are a number of thriving neighbourhoods that border along the Danforth including Riverdale, Plater Estates, Greektown, Blake Jones, Danforth Village and East Danforth
Danforth's many shops and restaurants reflect the multicultural flavour of the residents who live in this neighbourhood. Haaka, Mexican, Thai and Tunisian, speciality stores and retailers are located throughout this area of the City.
Danforth Area Ammenities for Seniors
Transit:
All Bloor/Danforth Line TTC Stations from Broadview to Victoria Park are on The Danforth and of those, Broadview, Pape and Main are wheelchair accessible.
The Danforth Go Train Station (at 213 Main St. south of Danforth on Main St) is partially wheelchair accessible.
Wheel-Trans provides door-to-door accessible transit service for persons with physical disabilities using accessible buses, contracted accessible and sedan taxis. Their strict eligibility guidelines can be discussed via appointment by calling 416 393-4111. Once eligibility is confirmed, reservations are at 416 393-4222.
Toronto Ride provides door-to-door, assisted transportation to seniors 55+ and adults with disabilities who are not eligible for Wheel-Trans. This partnership of 14 not-for-profit agencies in Toronto can be reached at 416 481-5250.
Seniors may be eligible for an Accessibility Parking Permit through the City of Toronto. Inquire at 416 235-2999.
Non-Medical transportation for Seniors to important appointments can also be arranged with accompaniment through your local Home Instead office.
Parks, Community Centres:
Woodgreen (at 815 Danforth Avenue) offers help in English, Mandarin and Cantonese with Outdoor Jobs, Social Work, Personal Support, Friendly Visiting, Inter-generational Teaching, Intro Computer Courses, Transportation Services, Caregiver Support Program/Group Counselling, Crisis Outreach Service for Seniors, Group Dining, Psycho-geriatric Case Management and a Bereavement Support Group. They run an Adult Day Program at 721 Broadview Avenue and 815 Danforth Avenue with supervised social and recreational activities on site for English and Chinese speaking seniors who are frail or have dementia. 416 572-3575.
Frankland Community Centre & Pool (at 816 Logan Avenue south of Danforth) is located in Frankland School. 416-392-0749.
Riverdale Park East located off Broadview Avenue south of the Danforth, is one of Toronto's largest parks and has a swimming pool, rink, tennis courts, sports field, walking/running track, an ice rink, sports fields and access to the Don Valley Ravine with walking and biking trail along the Don River. It also offers stunning views of the city scape.
Withrow Park is a 8.5-hectare park with an ice rink, wading pool, tennis courts, ball diamonds, volleyball courts, sports fields, and a leash-free area. It was created in the 1910's and is among Toronto's large multi-purpose parks (going from Logan Avenue to the West, Carlaw Avenue to the east, Bain Avenue on the south and nd McConnell Avenue on the north). Withrow Park was named after John Jacob Withrow (1833–1900), a local landowner and builder, who also served as a city alderman and was one of the founders of what would become the CNE.
East Lynn Park is a one hectare park (at 1949 Danforth Avenue) has a picnic area, a wading pool and a children's playground. It features a natural ice rink in the winter and a Farmers'Markets every Thursday from 9pm to 7 pm from June through October.
Monarch Park is a 5 hectare park located between Coxwell and Greenwood at 115 Felstead Ave. It features a dog off-leash area, an artificial ice rink during the winter, wading pool, outdoor swimming pool, and children's playground.
Main Square Community Centre (at 245 Main St) is a 3-level facility with a 25 metre pool and two multipurpose area with a wide range of programming for seniors like Cardio for Older Adults and Osteofit for Aduts 60+. 416 392-1070.
Libraries:
Pape/Danforth (at 701 Pape Avenue) 416 393-7727 and Danforth/Coxwell (at 1675 Danforth Avenue) 416 393-7783 branches are wheelchair accessible and offer books, films, internet access and community-based programs.
Hospitals, Clinics and Healthcare:
The nearest hospital is Toronto East General Hospital (at 825 Coxwell Avenue and Sammon Avenue) has an emergency department. 416 461-8272.
Albany Medical Clinic is located at 807 Broadview Ave (at Pretoria) 416-461-9471 and offers a walk in clinic, physiotherapy and medical diagnostics.
Main Square Medical & Dental Centre is located at 2575 Danforth Avenue near Main. 416 694-0500.
Did you know?
Danforth Avenue was named after Asa Danforth, an American contractor commissioned in 1799 to cut the Danforth (but didn't actually build it). The Don and Danforth Plank Road Company did in 1851, connecting it to Broadview Ave and creating a viable route to communities down near Queen St East and Kingston Road. It was once a sleepy byway that ran through open fields, market gardens, brickyards, scattered houses, the odd church, and occasional hotel or roadhouse.
Shopper's World, an outdoor shopping plaza at the intersection of Danforth and Victoria Park was opened in 1962 was one of the very first enclosed malls in the east end of the city.
Dentonia Park Golf Course (at 781 Victoria Park north of Danforth) is a city-owned, award winning course that promotes itself as one of the finest and most challenging par 3 facilities in Ontario. It is perfect for beginners just learning the game or advanced players sharpening their short shots. 416 392-2558.
Toronto's largest bridge, the Prince Edward Viaduct was built in 1918. The Viaduct provided Riverdale with an important link to the City of Toronto, west of the Don River, and marked a coming of age for this popular Toronto neighbourhood.
Danforth Music Hall was originally the Allen's Danforth movie theatre, built in 1919. It was promoted as "Canada's First Super-Suburban Photoplay Palace", the theatre opened in the midst a building boom along Danforth Avenue.
Greektown on the Danforth is one of the largest Greektown in North America. The area has experienced a wave of gentrification as higher-priced restaurants and bars have moved in. It boasts one of the highest concentrations of restaurants per kilometre in the world.